June 19, 2023: UPDATE — Sadly, this Kickstarter was not a success. No one who backed it will be charged. However, Reprise has now been published, and is available from the usual online vendors as well as in our own store (we expect to have paper copies available by Sunday, June 25th, but ebooks can be had now).
She's got a doctorate and nothing to lose
He's got a time machine and a hot wife
Which is deadlier, love or science?
May 21, 2023 — It's been a long time coming, but the Kickstarter campaign for Zilla Novikov's singular debut novel, Reprise: A Post-Modern Comedy of Manners, is here at last!
A caustically funny time-travel romance that blends dark academia with with timey-wimey complexity, D&D with S&M, and leaves the reader wondering if the protagonist is a murderer or victim — or both — Reprise is the novel that would have been written by the love-child of Jane Austen and the Marquis de Sade, had she been raised by Douglas Adams.
Reprise will make you laugh, gasp, and maybe, cheer.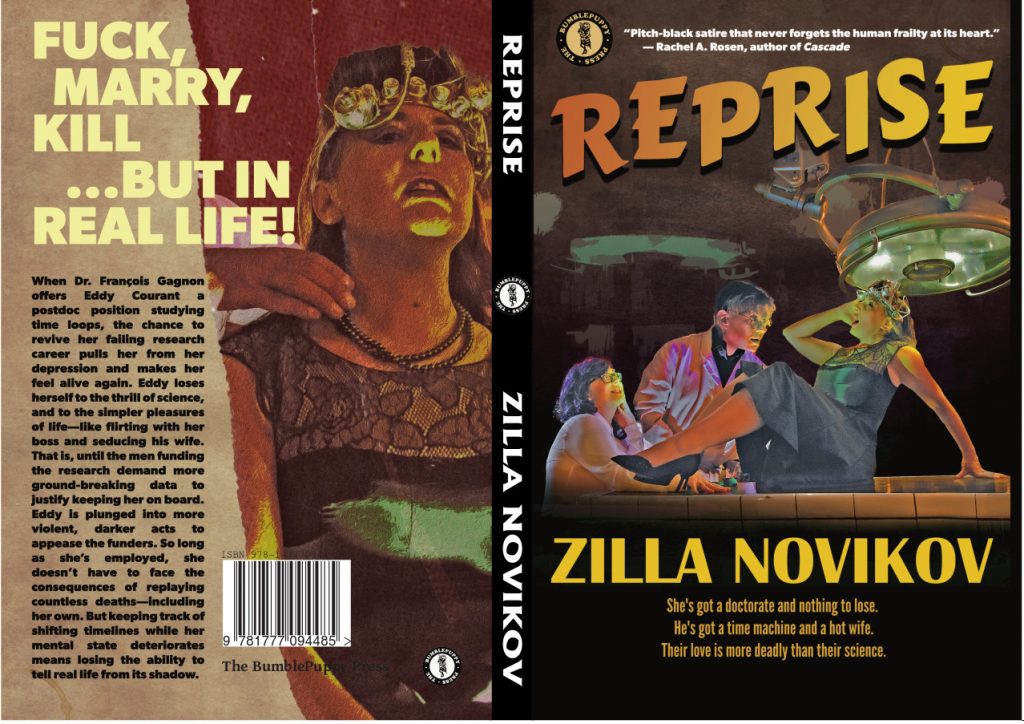 Most people play 'F**k, Marry, Kill' as a game of hypotheticals, but Eddy Courant's life takes an unconventional path when Dr. François Gagnon offers Eddy a postdoc position studying time loops. This unexpected chance to revive her career pulls Eddy from a deep depression. She loses herself to the thrill of science, and to the simpler pleasures in life – like flirting with her boss, seducing his wife, and playing Dungeons and Dragons with their son.
That is, until the men funding the research demand ever-more ground-breaking data to justify keeping her on board – after all, they have a war to start.
Eddy is plunged into ever darker and more violent acts to appease the funders. So long as she's employed, she doesn't have to face the consequences of replaying countless deaths – including her own. But keeping track of shifting timelines while her own mental state deteriorates means losing the ability to tell real life from its shadow.
If you like your pop culture nerdy, your queers messy, and your time travel criminally clever, this book is for you.
Please click here to support the campaign, and feel free to share the link with anyone you know who loves time-travel, romance, or any kinky combination of the two: https://www.kickstarter.com/projects/bppress/reprise-hardcover!
Geoffrey Dow, publisher