Backers and blurbs and videos – oh my!
Finally, something to make the hope-punks shut the fuck up.

— Peter Watts, author of Blindsight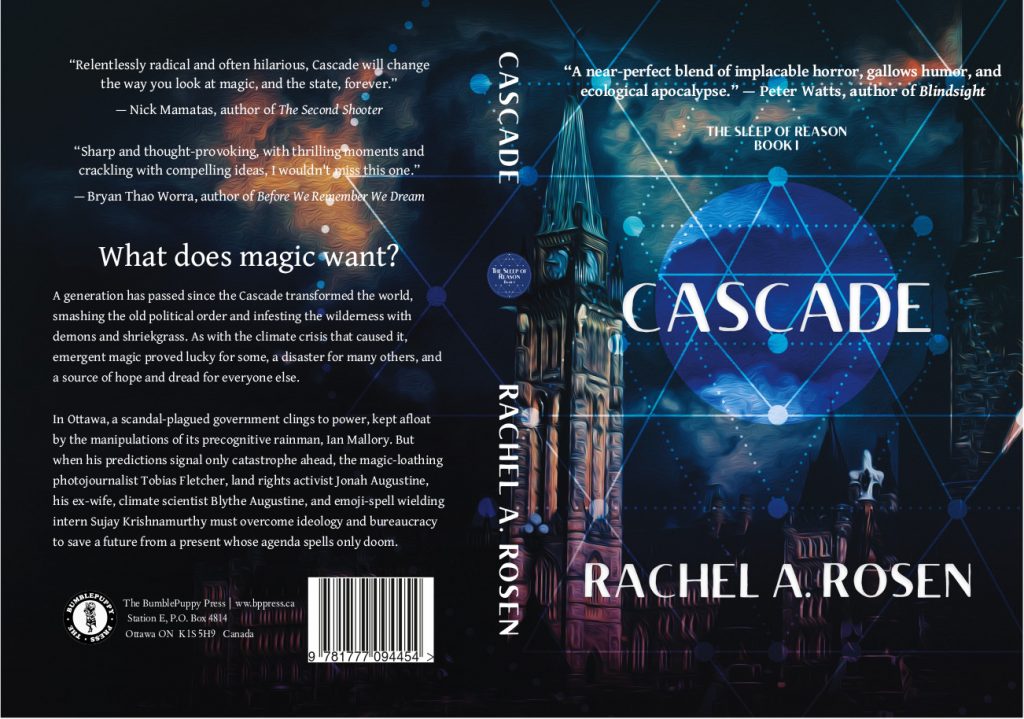 Well, our Cascade Kickstarter ended really successfully. 101 backers pledged 263% towards our modest $2,000 goal. If you are among those, please accept my thanks for your support one more time!
I am working hard to get the rewards out as soon as possible, which also means I am working hard to make Rachel A. Rosen's book available to everyone else, as well, so that those of you who prefer to buy their books in more traditional ways can do so soon.
* * *
Beyond the support of readers, we've also had some advance praise from other writers. For the record (and for my own pleasure, if I'm being fully honest — as why shouldn't I be?), here are what they've had to say to date.
Finally, something to make the hope-punks shut the fuck up.

A near-perfect blend of implacable horror, gallows humor, and ecological apocalypse. It seems almost absurd that a novel about chaos magic and bureaucrat magicians (even if they are embedded in the sociopathic morass of Canadian politics) can somehow feel more viscerally relevant than all the earnest mainstream novels and Suzuki-Foundation bulletins you could stuff into a ballot box. Pay attention, people: all magic aside, we're far closer to this future than any of our rulers will ever admit.

Rachel A. Rosen is some kind of twisted genius. I wish I had even half her moves.

— Peter Watts, author of Blindsight
---
Finally, an urban fantasy that kills the cop—and the rest of the government—in your head. Relentlessly radical and often hilarious, Cascade will change the way you look at magic, and the state, forever.

— Nick Mamatas, author of The Second Shooter.
---
Cascade is an excellent introduction to the imaginative prose of Rachel A. Rosen. Her debut novel takes us to a futuristic North America filled with vividly realized characters surrounded by magic and the possible end of the world. One of the few novels I've read recently in a single weekend. Sharp and thought-provoking, with thrilling moments and crackling with compelling ideas, I wouldn't miss this one. I'm looking forward to her next instalment!

— Bryan Thao Worra, author of Before We Remember We Dream
---
Rachel A. Rosen's Cascade is one of the best books I've read this year. She brings a unique blend of magic environmentalism, Canadian politcking, and indigenous and queer rights to the table. I never thought I would be so interested in the near-futuristic Canadian political process!

—Marsha Altman, author of The Darcys and the Bingleys
---
Full of magic and social commentary, Cascade is never so witty that it hides its anger or so angry that it sacrifices wit. This is a brilliant exciting debut by an author that will have a long and fruitful career if there's any justice in the world.

— Tim Lieder, author of Sugarplum Zombie Motherfuckers
---
And if all of those very perceptive comments don't convince you that Cascade is a novel worth your time and money, the redoutable Rachel A. has created something else for you!
If you prefer to read electronically, Kindle-users can pre-order Cascade here. For the rest of you, you'll be able to place pre-orders through our site soon, and through your usual online vendors soon after that.
Don't forget to subscribe to our mailing list in order to stay informed about this book, and those we have waiting in the proverbial pipeline!
Thanks and looking forward,
Geoffrey Dow, Publisher