The wild imagination of Douglas Adams,
The acerbic wit of Jane Austen,
The surreal vision of Emily Brontë …
Reprise
In a caustically funny post-modern Gothic, Dr. François Gagnon offers Eddy Courant a postdoc position studying time loops. The chance to revive her stalling research career pulls Eddy from a deep depression. She loses herself to the thrill of science, and to the simpler pleasures in life – like flirting with her boss and seducing his wife. Until the men funding the research demand more ground-breaking data to justify keeping her on board – after all, they have a war to start.
Eddy is plunged into ever darker and more violent acts to appease the funders. So long as she's employed, she doesn't have to face the consequences of replaying countless deaths – including her own. But keeping track of shifting timelines while her own mental state deteriorates means losing the ability to tell real life from its shadow.
Can Eddy find loves, stop the arms dealer, and save her sanity – or even one out of three?
Scroll down to see the cover (and find out more)!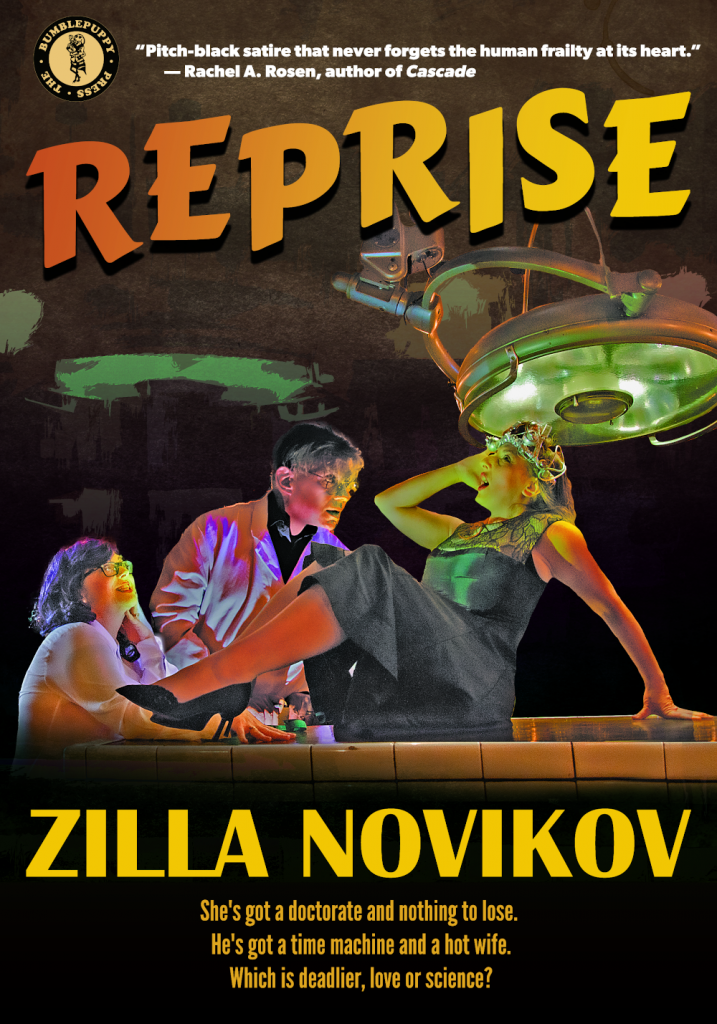 Zilla Novikov's Reprise, coming April 15, 2023
January 13, 2023 – I am excited and proud to present the cover of The BumblePuppy Press' next book, Zilla Novikov's singular time travel romance (and brilliant debut novel), Reprise.
Already available for pre-order as an ebook on Amazon, this coming week will see the launch of a Kickstarter campaign with all sorts of extra goodies available, but for now I just want to share the wonderful cover created by our own Rachel A. Rosen.
And don't forget to subscribe our newsletter to keep abreast of Reprise news, and news of all of our upcoming books (because there is a lot more to come in 2023).